WTWH Media
There are presently no open calls for submissions.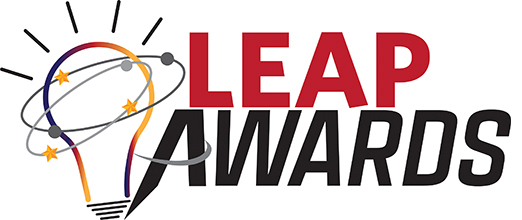 Leadership in Engineering Achievement Program
The LEAP Awards celebrates the most innovative and forward-thinking products serving the design engineering space.
CATEGORIES
Design World
Additive manufacturing
Advanced materials
Fastening & joining
Industrial automation
Mechanical
Motion control
Switches & sensors
Fluid Power World
Hydraulics
Pneumatics
EE World
Analog electronics
Connectivity
Embedded computing
Power electronics
Test & measurement
CRITERIA
Entries submitted must be new products that are commercially available in the United States and have been released since June 1, 2016. If the product is a derivation of a past component, the updates made to the design and function must be significant. All submissions become the property of WTWH Media LLC, and the company reserves the right to publish information in any of its media outlets. Entry deadline is September 1, 2018 and the entry fee is $325.
Best applications will include or address the following:
• A basic description of the product in 250 words.
• High-resolution (300 dpi) product photo, 3D CAD model drawing, and companion data sheet.
• A list of ideal applications for the product.
• Details on any patents.
• Description of the product's purpose. What problem does it solve? How does it improve on older products/what it evolved from?
• Information on the development process. Was any type of customer input or Beta testing involved?
• A description of the design aspects to the product. What were the engineering tools or processes used in the development?
• Outline how an engineer is going to advance their machinery, equipment or product designs as a result of this component or product. What kind of value does it provide to the end user or consumer?
Design World's Women in Engineering Issue
In November, Design World will celebrate some of the most inspiring women in the design engineering space. Our editorial team will highlight female engineers who are positively influencing design technology or engineering practices.
Nominations are due September 14th. Candidates must work for Original Equipment Manufacturers in an electrical or mechanical engineering design role. Winners will exhibit expertise in their fields, show leadership in elevating their industry, and have a passion for ushering in change.
The winners will be honored at an awards presentation in conjunction with DeviceTalks West in Orange County, California on December 11, 2018. DeviceTalks is the premier industry event for the medtech community, fostering the exchange of ideas, insight and technology among the pioneers of the medical technology industry and the engineering behind it.
Fully 50% of the gross proceeds from this issue will be donated to charity or scholarship relating to STEM/STEAM work. Winners will be invited onto a steering committee to advise on next year's nominations and to select the donation recipient.